 
Leone AC908 backpack black
Backpack Bag Leone AC908 black
It is a Leone sports bag with a large capacity to hold all your boxing or contact sports equipment. Leone AC908 backpack that you can carry it on your back or backpack type as you want to carry it. Leone sports bag with a spectacular Italian design that offers this brand. Backpack Leone AC908 Light and comfortable. For the purchase of this Leone sports bag you have international shipping available. You have in our website other backpacks or sports bags of the same brand.
Leone AC908 backpack black
Characteristics: Synthetic manufacturing. It has a large capacity that you can use both as a backpack thanks to the strings it brings so that you can hang it on your back as a bag or to carry it by hand with its two handles. Lightweight and versatile with the Leone design. It has two side pockets.
Size: 90cms height x 40cms length x 30cms width.
Recommendations: Large sports bag where you can store all your karate, boxing, taekwondo, muay thai equipment, etc. You can keep your belongings either your clothes or sports equipment for your most intense workouts.
You might also like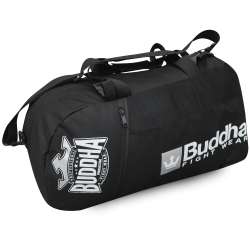 No customer reviews for the moment.