 
Venum Challenger pro evo backpack (black/white)
Challenger Venum Pro evo Backpack Black white
Very versatile, this Venum backpack from the new catalog is made up of 3 large departments to store your boxing equipment, martial arts equipment or the smallest boxing protections such as boxing bandages or kick boxing mouthguards. It stands out for being very light and comfortable. It has a padding on the back and on the shoulder straps to transport it with greater safety and comfort. Design with the brand's name in white on black. International shipping available at great prices. Discover our wide range of sports bags available on our website.
Pro evo Challenger Backpack Venum Black and white
Characteristics: Made of polyester, it has three large central departments to introduce the larger boxing or martial arts equipment. It also has lateral departments for the transport of small equipment such as muay thai anklets. Adjustable padded straps that allow carrying it on the back and rear area with padding to increase comfort. Black design with the brand's name in white.
Size : 30 X 50 X 15 cms with a capacity of 22.5 liters.
recommendations: Thanks to the padding of the straps and the back area, it is very comfortable to transport it by bicycle or motorcycle. Wide so you can enter karate, judo or any other martial art equipment.
You might also like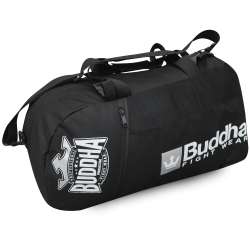 No customer reviews for the moment.