 
Adidas kumite karategi adizero
Adidas kumite karategi adizero
Adidas kumite karategi for competition approved by the WKF. Among the approved karate gi kimonos, it has one of the cheapest prices on the market and you also have international shipping. Lightweight, comfortable and with breathability systems. Available in children and adult sizes. Find this and other Adidas models on our website. Adidas is synonymous with quality.
Adidas kumite karategi adizero
Features: Adidas made of 100% polyester approved by the WKF with identification stamp on the flap that will allow you to compete without problems anywhere in the world. It provides excellent mobility for easy precision. Lightweight with quick-drying and anti-shrinkage system. Trousers with elastic waistband. Belt not included.
Karateguis sizes: suit available from size 150cms to 210cms with sizes in between.
Recommendations: It is very comfortable and light so it can be used for daily training, but it is actually an Adidas kumite WKF karategi designed for competition. Discover the quality in all the material that Adidas offers in both its equipment and its suits.
Advice: Do not tumble dry and machine wash in cold water. Do not shrink in the first few washes.
You might also like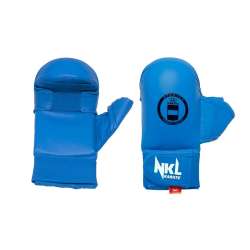 No customer reviews for the moment.