 
Taekwondo dobok TA1011 white collar
Taekwondo Daedo white collar dobok TA1011
Taekwondo suit designed for beginners who want to train taekwondo and do not want to spend a lot of money without giving up the quality that Daedo taekwondo equipment offers us. Available in child, youth and adult sizes. Lightweight and very comfortable. BELT NOT INCLUDED.
Daedo white collar taekwondo dobok TA1011
Characteristics: Composed of a white jacket with a white collar for beginners and taekwondo embroidery on the back. Wide leg pants with elastic waist and inner cordage. Composition 65% polyester - 35% cotton.
Size: Available from size 100cms to 200cms (The next size increases from 10cms by 10cms).
Recommendations: Especially recommended for beginner children. For exclusive use for training sessions.
You might also like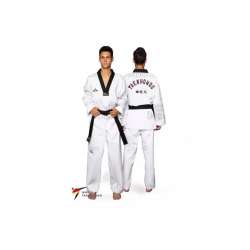 No customer reviews for the moment.